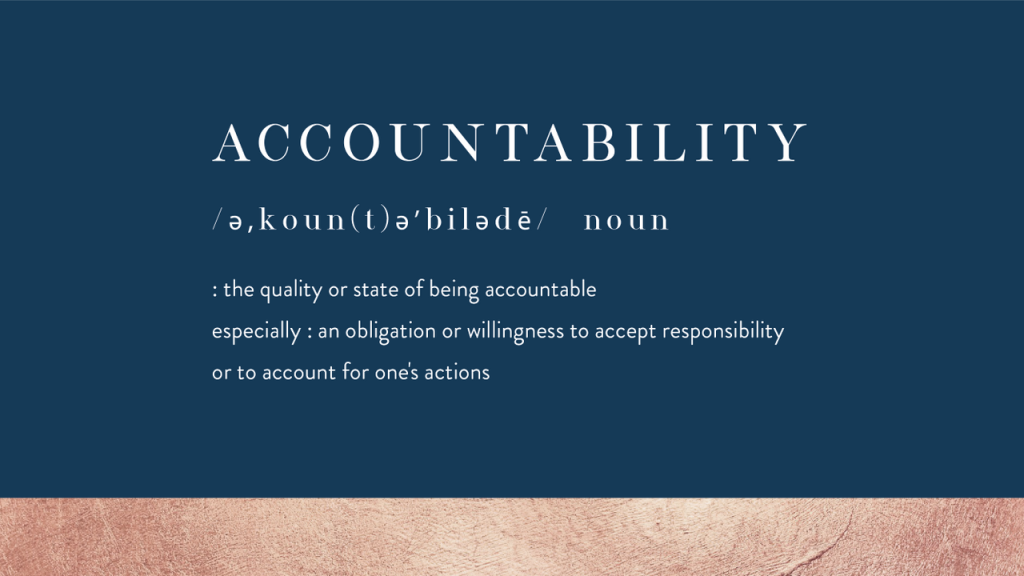 Blog Post by: Heather Frank, CFRE
My old friend, accountability. It's a relationship based on love, respect and personal hard truths.
As odd as it sounds to say, I have a personal love for accountability. In truth, the more accountable I am, the more connected I feel in my relationships with God, family and friends, with partners and donors, and even with my STUDIO 4Forty staff. Understand it or not, trust it or not, your private and professional relationships are defined and sustained in the context of accountability.
I am honored to work with wonderful nonprofit executives, development teams, support staff, and Board Members. What always surprises me is that there are three types of accountable workers. A third of workers in the development field diligently track personal and professional performance. The next third are less focused on metrics, preferring to, "fly by the seat of their pants." The final third avoid, avoid, avoid accountability at all costs, really having never been taught or truly developed the love or the habit of it.
Now, let's really talk about a few of the reasons why I love accountability as an executive, as a consultant, and as a fundraiser.
The BEST Fundraisers RESPECT Accountability.In fact, the best of the best usually become indifferent or disappointed with leaders who neglect or make time to do regular performance reviews. On the one hand, it's gratifying to think that organizational leaders have faith and trust in you, and don't feel the need to check up on your progress. However, ongoing accountability provides you the chance to show your efforts, success, insights, and suggestions for improvement. In other words, it's your one chance to say what you think and brag on what you've done. The best fundraisers would welcome the praise and suggestions for improvement regularly, but at the very least, annually. Leaders who feel disconnected from this process or avoid staff performance reviews are doing a disservice to both the organization and the staff. It's as if they are taking for granted the hard work going on around them without analyzing or striving for improvements themselves.
If You Can't Account For What You Are Doing, You Can Never Complain About Having Too Much To Do.The first thing I often hear from our partners is how overwhelming the workload is (and still is) at most nonprofits. It is also typical to hear that much of that work has nothing to do with fundraising. SHOCKING, RIGHT? Not for most of you. I see this all the time. Development staff have so much responsibility, often overly involved with events, committee meetings, and special projects that don't directly relate to fundraising and donor relations, and the stress they feel has a lot to do with being held 100-percent accountable for revenues with 30-percent of their time allocated to fundraising. Most of the time, in this profession, wearing many hats is unavoidable and required. Sometimes, however, stress from an unreasonable workload is the fundraiser's own fault. Unable to give an exacting account of his/her time, there's no performance data on which to base an appeal to support or less work. In such cases, high accountability is not the cause of stress. It's the lack of personal and professional accountability that prevents employees from dealing with it. I know, I know… that's a BIG statement, but try saying this three times to yourself in the mirror, then tell me how it made you feel: I am accountable for my own stress.
Performance vs. Missed Potential. This month, we consulted with a nonprofit that has 768 donors who have given anywhere from $100 a year to $10,000 a year. However, none of those donors are in the portfolio or on the radar of the development staff, and no one has ever called on any of them. That is a MAJOR missed opportunity that highlighted several basic challenges for that organization:

Assumptions vs. Reality: they were doing well enough and didn't recognize or feel a pressing need to further steward or cultivate those donors. The reality is that by not recognizing or further stewarding those donors, they will lose them permanently.
Staff were too involved or too busy with other responsibilities to follow up on these donors. Time management became more about putting out fires in the present than progress towards the future.
They had not planned or strategized for incorporating additional development into their strategic plans. I see this happen ALL THE TIME. Many organizations are not reaching their fund-development potential and instead of raising the bar, they are settling for less.
As I mentioned earlier, there are three types of non-profit development professionals. Each type relates to personal and professional accountability differently—those who loved it, those who tolerate it, and those who hate it. The hard truth to hear is, why would you ever want anyone on your team who hates or lacks accountability? The "tolerators" are those willing to be held accountable if their supervisors insist. The "lovers" are those who hold themselves accountable even if no one else does. Too often we see non-profit development professionals that are trying to keep others from discovering what they are doing or not doing.
To all of my non-profit friends, leaders, Board Member, and development staff members, I know that you value and appreciate the importance of accountability. I want to challenge you to be the leader that changes the culture within your organization to one of accountability lovers and watch your team RISE UP!
As off the wall as it may sound, when I shut down for the day, I feel relief in knowing that I'm doing a good job. I know that I'm making a difference at my local hospital, at my local Boys & Girls Clubs, with our STUDIO 4Forty partners, or whatever organization I am serving. It doesn't matter if anybody ever evaluates my performance other than myself, because I hold myself to a higher standard. I know when I'm making a positive difference and know when I need to do better. I am a lover of accountability and it shows in my work.